Sports Performance
Tel: 01282 698 698
Would you like to increase your speed, strength and stamina and be at the top of your game?
Of course you would, that's why I'd like to introduce you to the most thorough and practical training programs available today ensuring that you stay ahead of your competitors and the competition.
Sport Performance
If I said to you that if you continue to do the same things in exactly the same way that you have always done them then it's an absolute certainty that you will continue to get the exact same results that you have always got, than you'd have to agree because absolutely nothing has changed. So, if you continued to do the exact same exercise program in exactly the same way that you have always done it – then would you expect your results to be any different?
You Can Create Change with Correct Preparation
Now, if your goal is to enhance your current level of performance and be the best in your chosen field then the only way you are going to improve your current level of performance is to change what you are doing and the way that you are doing it. Sounds simple and it makes a lot of sense doesn't it? The trouble is that the majority of clients think they are already training correctly – the reality is…………..they aren't.
That's why when it comes to Sports Performance correct preparation almost certainly prevents poor performance.
"Pain is temporary. Quitting lasts forever"– LANCE ARMSTRONG
Put an end to poor sports performance and achieve better results
Allow me to explain a little further. When you are training to enhance individual sporting performance, it is important that you incorporate exercises that come close to the demands of the actual sport and competition. Body Wars packages are specifically tailored to meet your sporting needs and furthermore are targeted to your individual sport as different sports use different muscle groups…………..our packages enhance the performance of both professional and amateur athletes of all ages, interests and abilities.
Nutrition and Fitness
Maintaining a high level of motivation and strength as well as proper nutrition and fitness and adequate periods of rest, are all important elements in developing peak fitness goals while improving strength and conditioning and reducing the risk of injuries. Body Wars programs are so successful because they incorporate the Body Wars '4 Pillar System'.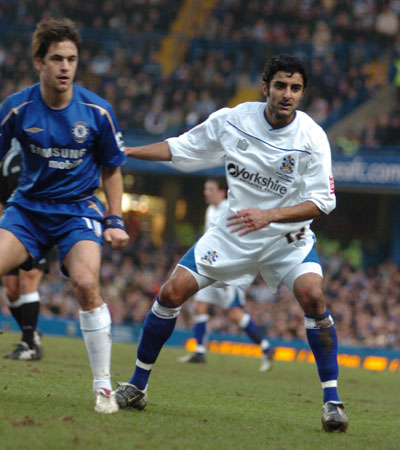 Adnan Ahmed is a current Body-Wars client……here's Adnan in action against Chelsea's Joe Cole!!
Can you become faster and stronger than ever before, avoid injury and focus on achieving your performance goals?
The simple answer is YES ………….You can achieve better results in your chosen sport whether you compete individually and/or as part of a team. Anyone can enhance their current results, from the professional athlete to the weekend warrior, or even the budding school athlete, but remember: NOT if you continue to do the same things in exactly the same way as you've always done them. Everything starts with a decision and without that nothing changes. You need to make a decision to change the way that you currently do things and decide that you want to aim for the top and to be the best you possibly can be, why settle for bronze when you could have gold!!
"I've missed over 9000 shots in my career. I've lost almost 300 games. 26 times I've been trusted to take the game winning shot…..and missed. I've failed over and over and over again in my life and that's why I succeed" – MICHAEL JORDAN – PROFESSIONAL BASKETBALL PLAYER
Body Wars programs are designed to help you reach your true sporting potential by becoming faster and stronger than ever before and here are just some of the many areas that our sports performance programs focus on:
Increasing strength
Increasing power
Increasing flexibility
Increasing speed
Increasing foot speed
Increasing balance & co-ordination
Correcting motor programs
Correcting muscle imbalances
Increasing or decreasing muscle mass
Improving core strength
Improving fitness
Discover how to use sports nutrition & supplementation to it's maximum effectiveness
Now Are You Ready To Be The Master Of Your Game?
Of course you are. Body Wars are one of the UK's leaders in Sports Performance specialising in sports specific training and treatments. We are dedicated to providing you with expert advice and services to help professional, national, and elite amateur athletes reach their sporting goals.
But how do we manage to achieve such great results with our clients? The answer is simple. You are all different. Every person is different, all athletes are different and therefore your training program needs to be different. Body Wars tailors each training program to address your individual areas of weakness and review your performance goals this ensures the optimal performance and progression of each client.

If you're now ready to be at the top of your game call Adrian on:

01282 698 698
It won't take you a second longer to do an effective exercise as it does for you to continue to do an ineffective exercise!
Sports Performance Program
Many people spend too much time on ineffective exercises programs. They spend hours at the gym using the same equipment, doing the same exercises and therefore getting the same results………you know the one, where you walk into the gym and you see the same woman on the same treadmill that she's been on for the last few years and she still looks exactly the same as she did when you first joined!! Your sports performance program needs to be created by an experienced and certified health and fitness professional who takes into account your personal needs, preferences and abilities.
Our service promise to you is that Body Wars clients will never receive the 'off the shelf' treatments and training offered by many other health and fitness clubs and practitioners. All of our programs are individually tailored to suit the client and cover the basic conditioning transition, specifically phased with correct periodisation. The client's bio - motor abilities are assessed along with their core function. The core muscle is paramount to any sport, as are the tilting and right reflexes. These areas are then developed to give the best functional carry over.
You Are One Daring Decision Away From Being at the Top of Your Game
Whatever your chosen field is your off fitness routine can definitely boost your results. Body Wars Sports Performance Packages are designed to reduce the risk of injuries, improve overall sports performance and take you from where you are now to where you want to be. Call us now on 01282 698 698 before your competition does.
"If you don't set goals for yourself, you are doomed to work to achieve the goals of someone else" – BRIAN TRACY