Money Back Guarantee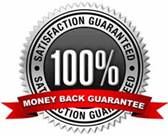 Body Wars are one of only a handful of specialist weight loss and sports conditioning center's in the UK to offer a full money back guarantee but we are the only centre in the North West!!! – Completely eliminating any risk to you our client.
Why Do We offer a money back guarantee?
Every promise that we make to a client is fulfilled and guaranteed. Body Wars philosophy is that if we say we will help you achieve your goal of running a marathon, dropping a stone in weight or having increased energy then we should be 100% committed to delivering our promise – the same commitment that you give to us. Our promise is that we will meet and exceed your expectations which means that you have nothing to lose and a new you to gain!
Remember, this is the only money back guarantee in the North West, why not ask your existing gym, personal trainer or nutritionist why they don't offer a full money back if you're not experiencing the results that you want? What do you think their answer would be? What are they afraid of? Why do they want to take your hard-earned money and give you no real assurances in return? Why should you assume all the risk?
One thing is certain if you fail to achieve the results that you were promised, despite following the advice you've been given, we will refund 100% of your money with no questions asked.
Chances are that if you are still reading this you may not be achieving the results that you want, you may have health and wellness issues that you would like to resolve but one thing is certain, if you don't change the program that you have been using, you'll continue to get more of the same results……………………and Body Wars promise to you is that we deliver RESULTS.
Why wait? Two months from today, you can be nothing more than 60 days older, or, you can decide to be well on your way to getting the 'body you desire in weeks not years'. Call us now on:01282 698 698.